A health scare catapulted Tracy, a busy mother, wife, and blogger, into a health journey of losing 140 pounds.
Tracy returns to share about the challenge of maintenance, her mindset, and new discoveries.
"A year from now you'll wish you had started."
Be sure to check out Tracy's original Tips Of The Scale interview from Fall 2013.
Background
Tracy shares that the beginning of her weight loss journey was a health scare in 2012. Tracy thought she was having a heart attack, and the experience "catapulted me into this journey to get healthy and lose weight".
Tracy is 34 and a mother, wife, and blogger. She has lost an amazing 140 pounds (63.6 kg) through exercise and tracking calories. In this update, Tracy discusses:
maintenance fears
food tracking strategies
new challenges
Staying Motivated: Exercise and Eating
With how busy her life is, Tracy says that sticking with the hard work of her journey has become easier as certain things become second nature, such as completing her morning workout.
She tries to exercise 6 days a week, in 30 minute sessions. Tracy emphasizes that choosing a fun exercise program with a length of time you like will increase the chances that you will stick with it. Home workout programs let you do them at your own pace. Over the course of her journey, Tracy's discovered that she loves lifting weights over cardio workouts. Strength training was introduced into her routine through home workout videos, and she attributes a lot of her success to it.
Tracy is a huge fan of Shaun T (see Resource links below) and she enjoys the weights portion of those routines best. Tracy's currently working on the Jillian Michaels program, and she loves seeing her strength improve. The Insanity video series was an exciting part in her journey because it showed how much she could do and how strong she was.
Once she could do her first pushup, Tracy says:
"I seriously got down at work and showed everyone, I was so excited!"
In early June of 2014, Tracy celebrated 500 days in a row of tracking on My Fitness Pal, a huge accomplishment. In order to get to that point, Tracy shares that she didn't focus on logging forever. She focused on small goals first – such as challenging herself to a month, then 100 days, then a year, and so on.
Tracy suggests starting to log one meal each day, and let that meal become a habit first, them go to the next meal. Sometimes if you log the night before, it takes away the guesswork for what you will eat the next day. This journey is always a learning process, but both exercise and logging food are a habit now, which makes things a bit easier.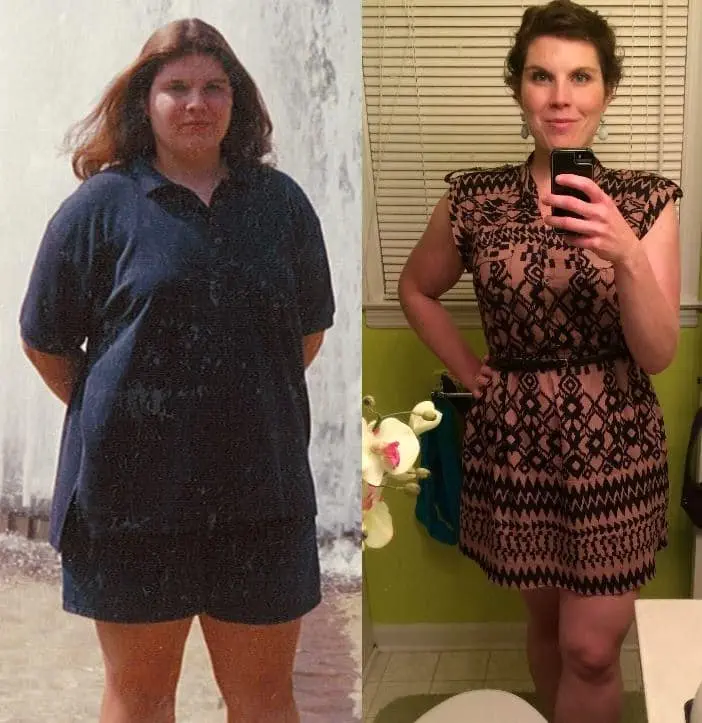 Goals
Tracy opens up about some adjustments she's made along her journey.
As she approached 175 pounds (79.5 kg)  – the scale goal she had set for herself, Tracy began pushing herself too much and health issues began to crop up. She consulted with a doctor and they decided together that her body was ready for maintenance.
Tracy's weight fluctuates now between 176-180 pounds (80-81.8 kg) and she began to realize that a number on the scale looks different on each person's body, and that is particularly true when weight training. Tracy's body fat has gone from 51% to 28%, and that measure has ultimately been more important than her scale weight. Through exercise and clean eating, Tracy is still gaining muscle and losing inches.
All told, Tracy went from a size 24/26 to a size 8/10 in clothes. Her friend gave her something to try on at a store one day and she remembers saying "there's no way I'm going wear a size 8!" The scale had not moved in months, but her body was still changing.
"Everyone has this idea of what a certain weight should look like, but it looks different on every single person. I think you have to find where you feel best at."
Maintenance
Tracy is realizing there are not as many tools out there for maintenance as there are for the weight loss process itself, and that maintenance is more of a mental game than anything. She admits that she was afraid to go into maintenance because she struggled with the idea of increasing her calorie intake. On the subject of maintenance:
"Honestly it's day by day… It's not without struggle."
Tracy opens up about how different maintenance has been from weight-loss, and describes the fear of changing anything because of worrying you will gain all the weight back immediately. Finding a balance in her life is a constant project for Tracy.
When weight loss was no longer Tracy's primary focus, she realized that she had simply set aside some of her difficult issues with food instead of dealing with them. To rectify this, She's begun going to therapy.
"It's funny because people are like: 'But you've lost 140 pounds! How can you still have these issues?'"
Tracy says that talking to a therapist has helped immensely with anxiety, emotional eating, and for finding tools for seeking balance. Tracy finds that it takes your mind a while to catch up to your body.
It's critical to celebrate how far you have come instead of just on the amount of weight left to lose. She plans to take a break from logging her food, to prove to herself that the 500 days of logging in a row have taught her that she knows what she needs to fuel her body.
Always Learning
On Nutrition: Tracy explains that even just one year ago, she and her family ate very differently than they do now. They now rarely ever eat processed foods. She shares the numerous health benefits of this change – a significant one being the ability to eat more volume of food because natural foods are typically lower-calorie.
"A year ago we were not eating this way, but over time, we've gotten better at it."
Planning menus and shopping once per week also helps keep her family on track. Tracy cooks in bulk with the crock pot, and then uses that food for her own healthy frozen meals. She treats herself to one meal out for lunch per week. As a family they spend about $100 USD/week or less on groceries. Tracy loves to buy a big pork loin, and then split it up and shred it up for BBQ or tacos. Mostly eats lean meats and vegetables, and has moved away from starch at every meal.
Tracy discusses how she evolved into making positive choices in what she eats, rather than saying she is going to limit herself or rule out entire food categories.
On Exercise: Finding a new program, or mixing up a few different programs to suit your mood. There are so many different kinds of workout programs available! Tracy's parting thought is a reiteration of the quote she shared in her last interview:
"A year from now you'll wish you had started."
Tracy hopes that keeping that quote in mind during someone's journey can keep them motivated.
Resources Discussed In This Podcast
Body Revolution (no longer available) by Jillian Michaels
Shaun T's T25 [Amazon] workout DVD's
SkinnyTaste.com (home of Tracy's highly recommended slow cooker recipe for Chicken Santa Fe)
Pinterest for "easy, fast, health" recipes
On Tracy's Workout Playlist
Contacting Tracy
Tracy journals about her journey and experiences online and can be found at the following online destinations. Say Hello!