I have read through each and everyone of these, and I couldn't decide on any one of them, so here is the link so you could read/test them all.  Especially for those who are trying to curb a sweet tooth (addiction), these ingredients give you the sweet without the processed junk.  (Thanks to www.dailyburn.com for all these amazing recipes.)
If I HAD to choose, these look pretty darn good.
NO-BAKE ENERGY BITES
Yield: ABOUT 20 BITES
Prep time: 10 MINUTES (PLUS CHILL TIME)
INGREDIENTS:
1 cup quick oats (use gluten-free oats if you want to for these to be gluten-free)
1/2 cup natural peanut butter (or any nut butter of your choice)
1/4 cup agave nectar (you can also use honey or maple syrup)
1 tbs. melted coconut oil
1 tbs. chia seeds
2 tbs. flax seed meal
3 tbs. mini chocolate chips
pinch of salt
1/4 tsp. ground cinnamon
Other optional add-ins: raisins, nuts, dried fruits, coconut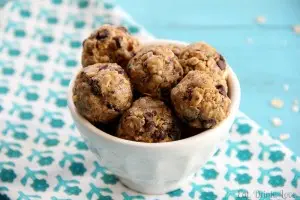 DIRECTIONS:
In a large bowl, mix together all of the ingredients until well-combined. Cover and refrigerate the mixture for about 30 minutes.
Using your hands, roll the mixture into balls. Mine were about 1-1 1/2-inch in diameter.
Place the bites into an airtight container and store in the refrigerator for about 1 week.
Serving Size: 1 bite; Calories per serving: 90; Fat per serving: 5.3 g
Happy testing!
~A