One of the questions I get frequently from readers and friends sounds something like this:
"My husband's weight is out of control and I don't know how to help him. I know he wants to lose weight but he doesn't seem able to stick to anything and always gives up after a week or two. What can I do to help him?"
In 2008 I moved to a new apartment in beautiful and luxurious Rancho Cucamonga, California. I weighed in at over 400 pounds at the time, so I had relied on the help of friends to assist me in getting my stuff packed. Whenever I moved back then, I would always have 7 or 8 boxes of books (I love books still but have since transitioned to e-reading and minimalism). While unpacking one of my many boxes of books, I came across a book that didn't belong to me, that someone had placed in my boxes.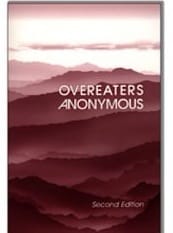 That's right, someone had snuck in an Overeaters Anonymous book into my stuff as a means of sending me a message. It was not intended to be a mean gesture but needless to say I was taken aback by it. I was hurt and humiliated. I'd like to tell you that this was the beginning of the end of my obesity but in reality it became the beginning of a two week bingefest with a depression chaser.
Let me start off by taking a stance on this approach: covertly dropping literature saying, "you're fat" is not the correct way. I readily recognize that the sentiment behind this gesture was love (after all, it was performed by someone who had helped me pack up my house), but that sentiment was not communicated well here.
I threw the book in the trash. I never opened it, and it would be two years from then before I would ever seriously consider losing weight. I never found out who did this and I have zero interest in finding out. If you are reading this, please know that I forgive you and understand the sentiment behind this gesture.
So what can you do?
First things first: you can't "get someone to lose weight".
I can't tell you how many times I unsuccessfully tried to lose weight before it finally took. I know exactly why those attempts failed. Looking back:
in high school, I tried to lose weight because puberty happened and I wanted girls.
in my early 20s, I tried to lose weight for my wedding.
in my mid 20s, I tried to lose weight for the girl of my dreams (my daughter).
in my late 20s, I tried to lose weight for the 2nd girl of my dreams (other daughter).
All of those things have one thing in common: doing it for someone or something else. Psychologists refer to this extrinsic motivation and the data on this might surprise you. This study out of the University of Chicago took two groups and got them to try dental flossing for two reasons:
The first group focused on the long term benefits (i.e. reducing tooth decay or external motivation).
The second group focused on the feelings of flossing (i.e. the clean feeling it leaves in your mouth or internal motivation).
What did they find?
"But when [they] surveyed the participants three days later, it was those who'd stayed focused on the experience of flossing [intrinsic] who'd flossed more than those who'd focused on flossing goals. [extrinsic]." (emphasis added)
In other words, to be successful we must be able to say as Walter White from Breaking Bad: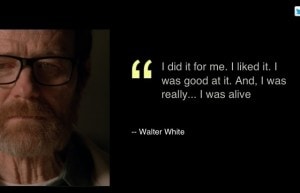 Second things Second: All We Need is Love.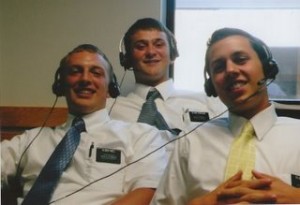 Starting on a weight loss journey can be terrifying. Unless you're a complete sociopath, return mormon missionary or a telemarketer (or heaven help us all three–I've known some) chances are you're at least slightly afraid of ridicule and rejection.
The best example I have of someone who did an amazing job loving me through my weight loss journey was my mom. It seems like every 10 pounds I lost, there she was bragging on Facebook to her friends or telling her family members what an amazing job I was doing. She made me feel like I was doing something amazing every minute of every day of the journey. She encouraged me and didn't make me feel like a weirdo for bringing a lunchbox to Thanksgiving. I never doubted for a second if I could do this because I knew she didn't doubt it.
Sometimes, if you'll believe in your friend there is some sort of faith osmosis that can take place and supplement their own self faith.
Third things Third: There actually are Some things you can do.
I'd like to say that I was an island, completely self sufficient in need of no one or nothing to lose my weight, but there were a few things that others did that definitely helped me a long the way that I wanted to share.
Challenge them softly. When I was plateaued solid just above 280, Gary purchased me a scale with a max weight of 280. I wanted so desperately to be able to measure myself on that scale that I spent the next week really focused and drilled down hard in order to make it. Complete baller status for Gary as a Motivator.
Accommodate the "diet". My closest friends made sure that when we were going out to eat, that they would choose a place where I would be able to make healthy dietary decisions and never peer pressured me into sharing a platter of nachos or kryptonite pizza.
Help them get picked up on in Swedish Furniture Outlets. One day while playing with the magnetic cutlery holder in an IKEA, a girl approached me and laughed at everything I said. I was oblivious to the fact that she was interested in me until she asked for my phone number in the end. It wasn't the right timing for a love connection, but it definitely told me that I had at least progressed aesthetically. To apply this to your friend, make sure you compliment the physical features they have gained. Believe it or not, many of us start losing weight just to look good naked.
Like, double tap and retweet. If and when your friend decides to go public with their goal, make sure that you are pimping the living crap out of everything they do publicly. They are putting themselves on the line if and when they choose to come out of the soon to be former obese person closet, take that opportunity to cheer them on like you're an Red Sox fan after the world series win.
Pray for them, think positive thoughts or whatever other cosmic things you may or may not believe in. I needed and they will need it to.
Do you have someone you're trying to encourage? Need ideas on furniture outlets to be a wingman at? Want to tell me you think I'm full of crap? Leave it in the comments! I'd love to hear from you.