Weight Gain Background and Contributing Factors
Courtney was always overweight as a child, from 3 years onward. She says she didn't choose the best foods to eat, but always stayed active.
After she started having children, she didn't maintain her level of activity, which caused the weight to increase more.
Courtney's peak recorded weight was 379 pounds (172kg).
How Being Overweight Impacted Courtney's Life
Courtney's feels that her weight held back her athleticism in dancing and was hard on her self esteem, especially with comparing herself to her friends in high school. Her weight also negatively impacted her social life as a teenager.
In the past, Courtney tried using Weight Watchers, but she didn't stick with it. She had the same experience with trying workout DVDs and not sticking with them. Courtney feels that, at the time, weight loss wasn't something she was really focused on, so these programs didn't work for her.
She wasn't even sure at that time that she could ever be smaller. Courtney discusses that she was in a completely different mindset, and that weight loss wasn't a priority.
The Turning Point
Around the end of of 2010, Courtney's aunt posted a weight loss challenge through facebook, and Courtney really liked the idea of a competition and a cash prize. She loved both the challenge and hearing details of the stories other folks shared about their weight loss experience. In addition, Courtney's kids were her motivation:
"I just wanted to be able to run with my kids and play with my kids…"
Starting The Weight Loss Journey
"I always make small goals, but I always have bigger goals in mind."
Courtney began by taking short walks and paying attention to her food. She uses MyFitnessPal daily, but took a break in 2011 while she was pregnant.
Courtney loves Zumba, and took that class all through her pregnancy. Changing eating and tracking calories were critical for Courtney's success—in the past she ate sweets and salty foods a lot. Using the MyFitnessPal app was eye opening for Courtney, and she mentions waking up to the fact of how many calories are in a slice of pizza.
Dinner meal-planning at the beginning of the week helps Courtney with simplifying meal prep for a large family, and also keeps her grocery costs lower. Family and friends Courtney told about her plans to lose weight were excited for her and supportive across the board.
Challenges Courtney Faced Along The Way
Courtney's pregnancy was challenging for her, as she had just begun to gain healthy momentum and lose some weight. She was excited to be pregnant, but at the same time nervous that she wasn't going to be able to keep her mindset of determination.
"With being pregnant I was nervous I wasn't going to be able to lose the weight, so I was very, very down at that time."
What Courtney Learned About Food, Exercise, and Herself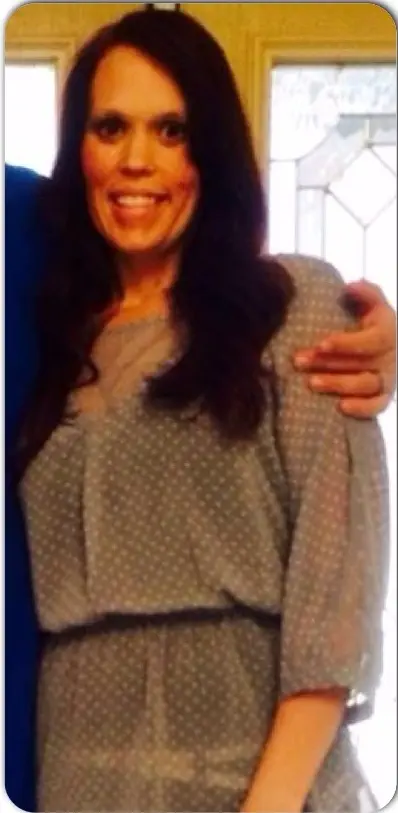 Courtney is an avid exerciser and loves to spend time at the gym. She spends about 2 hours per day, 6 days a week exercising—running, Zumba, cardio classes, weight training, and kickboxing. Courtney says "that is mommy's time…my kids know that."
Courtney loves working out in group classes as she feels the mood of the group in a class can be infectious.
The transition to eating healthier was hard, but Courtney has found a love of different food than she ate in the past, and enjoys finding new vegetables to try. While she admits that she still loves foods that aren't nutritious, she is excited that she has found many new foods—especially vegetables—to enjoy. Courtney still tracks her daily calorie intake on MyFitnessPal. Plateaus were somewhat discouraging, but Courtney just stayed on track with her eating and activity.
"I was never happy with myself. I didn't even like to get my picture taken."
Courtney always tried to be an outgoing person even when she was heavier, but looking back she feels like she was uncomfortable with who she was and shyness hid her true personality. Courtney feels much more self-confident and able to assert her personality now, and can stick up for both herself and her kids like she never could before.
"I feel happier."
Courtney currently weighs 156 pounds (71 kg), for a total of 223 pounds lost. (101 kg) Courtney recently became a dance teacher for kids as well as a licensed Zumba instructor. Teaching dance was a dream of Courtney's since she was a girl, but at her heaviest she couldn't have imagined this part of her life.
"I am so much stronger than I ever used to be…mentally and physically."
Courtney's current goals include working to get stronger—she wants to be able to squat her own body weight. Courtney advises that maintenance is just as hard as losing weight, so it's important to keep in mind that this is a lifestyle rather than a diet.
Courtney's Advice For Your Journey
Often we fail, but it's still not an excuse to quit. Start today! Don't wait for tomorrow or Monday, just start today. Go for it!
Resources Discussed In This Podcast
On Courtney's Workout Playlist
Contacting Courtney