"If your heart is in your dream, no request is too extreme."Jiminy Cricket, in 1940's Pinocchio
"The rung of a ladder was never meant to rest upon, but only to hold a man's foot long enough to enable him to put the other somewhat higher."Thomas Henry Huxley
Biography
Rick (age 64) and Kelly (age 53) work for an insurance company in Hanover, Pennsylvania. Kelly has a background in nursing, and Rick worked for many years in the financial services industry. They married five years ago and have a great story of getting healthy together.
Weight Gain Background and Contributing Factors
Kelly's family had a general heredity of being overweight—both in genetics and in family habits. Growing up in her family, food was always a comfort, an emotional outlet, and a way to show love for each other.
Even as a nurse Kelly says that she knew all the healthy behaviors she should have been engaging in, but "doing them is a whole different thing." Kelly had trouble losing the weight she gained when she was pregnant, but also experienced a lot of yo-yo dieting.
Kelly tried lots of different diets, and found things that used to work when she was younger weren't working any more. Kelly was lucky enough that her blood work never showed adverse effects because of her weight, but she knew it was only a matter of time.
After age 50, Rick describes his path as "a serious roller coaster of weight." He had a series of binge eating episodes, lost and gained weight, and encountered some serious health problems—sleep apnea surgery and 3 heart attacks. In different years, 316-322 pounds (143-146 kg) were Rick's highest weights.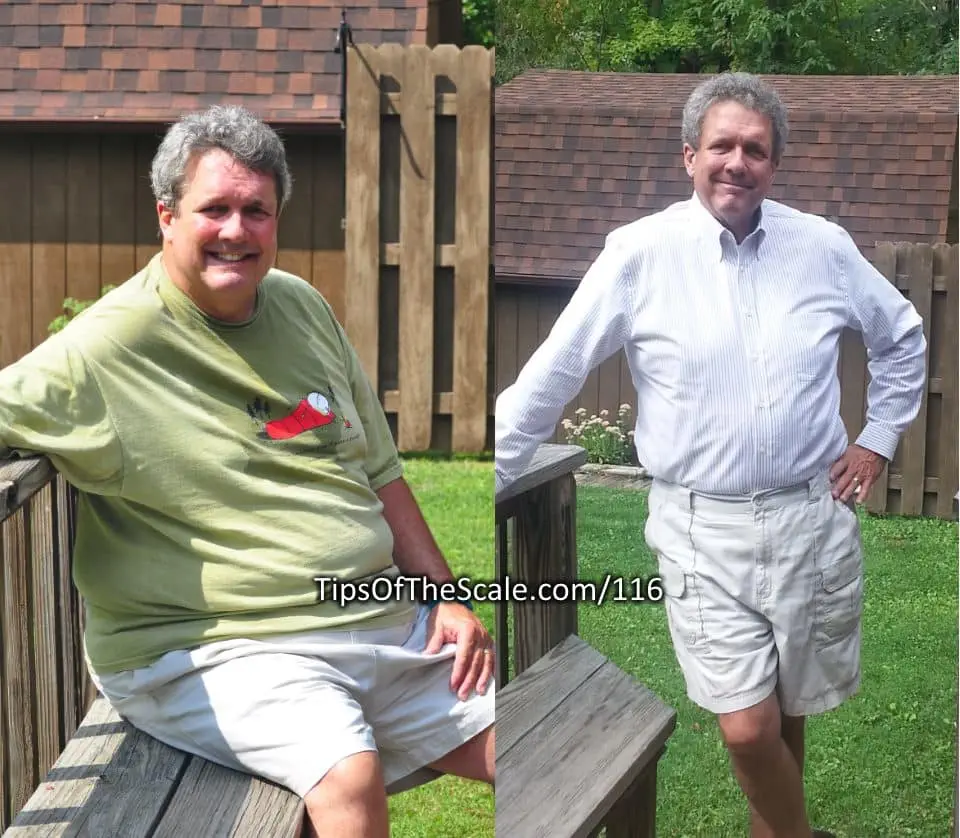 How Being Overweight Impacted the McKee's
Kelly was experiencing some difficulty with moving, which was beginning to impact her work. Then, in the summer of 2011, Kelly and Rick won a biggest-loser style contest at a Gold's gym. Even though they had won the biggest loser contest at their gym, to accomplish that feat they were exercising 2 hours each day, 6 days a week, which they felt was unsustainable.
Kelly explains that whatever plan was going to work couldn't just be something that was tacked on to their life (like intense hours of exercise) but rather a plan that fits with long-term lifestyle.
A few months later as Rick was finishing up a boot camp class at the gym, feeling ill after a workout, Rick and Kelly realized he was having a heart attack. Rick says that he even saw the "white light" in the ambulance ride.
"Together we realized we couldn't continue going down the pathway we were going, but we really hadn't found any other solution."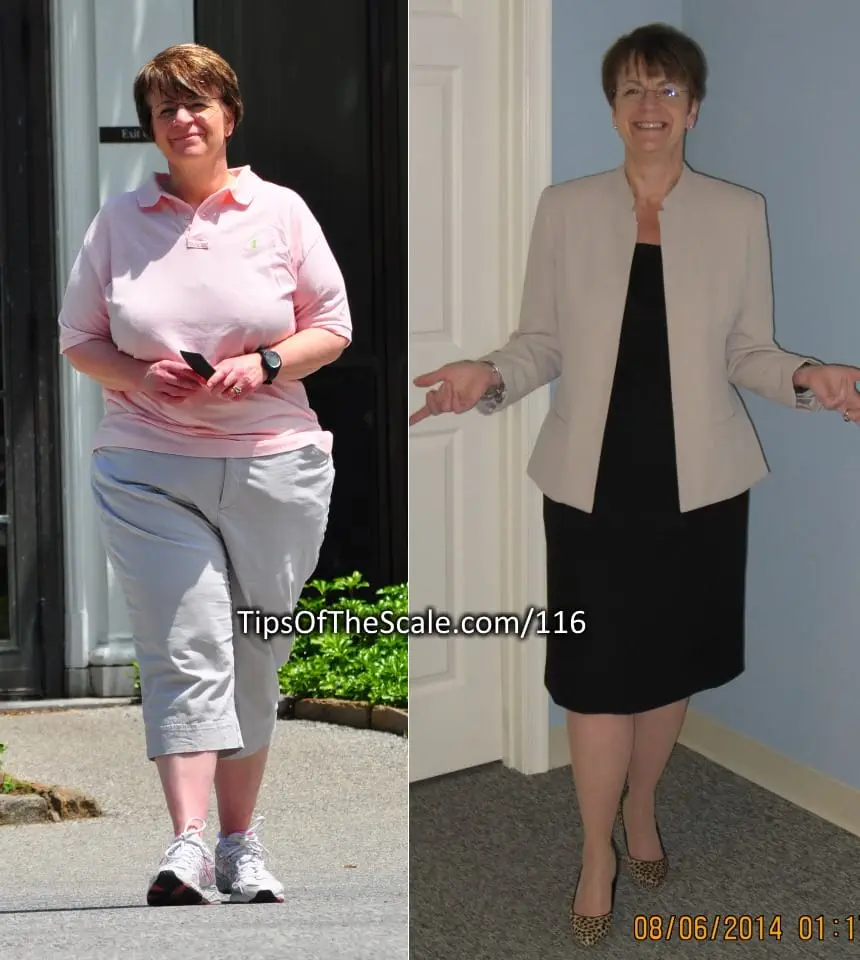 The Turning Point
Kelly's brother was a participant on Season 11 of The Biggest Loser reality show. He suggested a program in which they would use a meal replacement system, eating lean meats and lots of veggies, and engaging in healthy activity.
Rick jokes that between Memorial Day to August in 2013 they probably had the "last supper" (fried chicken, corn, mashed potatoes) at least 20 times.
Finally ready for a new direction, on August 15, 2013 the McKee's started their new eating plan.
Starting The Weight Loss Journey
The McKee's share that it was crucial for them not to call it a "diet." They both felt it was important for both of them to commit to the future together, and join forces on their weight loss journey.
"You have to have a burning why…and it's the why that gets you motivated to take each step."
Rick lost 40 pounds (18.2kg) in 2 weeks. For Rick, there was immediate reinforcement with his scale losses, and for them both there were lots of constant non-scale victories.
Right away, Kelly and Rick both felt "good" and energized physically, which helped sustain the new habits. It was a positive reinforcement loop.
They both had coaching and support along the way, which really helped. In contrast to restrictive diets, their approach has been different. Rick says:
"We haven't had any bread, pasta, rice, or potatoes in 54 weeks. It was important to Kelly that every thing we've done was a choice."
Staying Motivated
Customers at their business give them constant reinforcement with compliments. Since they own the business, they are in charge of all the food and beverages at work, which helps remove any temptations.
Kelly says that her losses were like a tortoise (to Rick's hare), and it was important for Kelly to trust the process, and keep at it. They are now within a few pounds of each other in their total weight lost.
What the McKee's Learned About Food, Exercise, and Themselves
"I'm powerless over ice cream."Rick
He shares that while flying for the first time (after losing weight for a month) Rick had to use a seat belt extender. That experience re-enforced his motivation to keep going with the eating plan.
Rick is 6' tall, and ended up losing 100 pounds in 23 weeks (they say results are not typical) and 14 more pounds in the next 29 weeks. Rick is happy to once again be able to ride his bike!
Kelly shares that when she was gaining weight, the pounds came on so easily that the difference in how she felt between a 15-20 pound increase was about the same, but alternatively when you are losing that same amount of weight, your body begins to feel so much better.
Kelly loves spin classes, and is excited that losing weight has allowed her to get back to that activity. Kelly's goal was never a number on the scale, but instead, it was just "feeling good." She has been experiencing no headaches, and less inflammation throughout her body.
Kelly discusses that nutrition is key, and knowing what to do is different than the more important thing, which is to take action.
"There really is no such thing as perfect."
Kelly and Rick both say that it's impossible to express to others how great they feel. As a couple, they are tons more energetic now. On the weekends and in the evenings they now go in for more active things—walking, bowling, riding, hiking, white water rafting.
They even helped Kelly's 77 year old father lose weight, an amazing 70 pounds. Once they hit 100 pounds lost mark, they promised to take a trip to Europe, and take honeymoon photos that they will be proud to share. The next project they are embarking on together is going gluten-free.
The McKees' Advice For Your Journey
Kelly: Choose. Remember that you are the one that is driving your car, or your life. Empower yourself.
Rick: Open up your shell, and you may find that many folks are experiencing the same things that you are, and that enables you to talk about it with others.
Future Goals: Due to the fact that his mom saved it, Rick has his 1968 high school gym uniform. His goal is to be able to fit into it, and then post the photo on Facebook and challenge people of his era to get fit.
Helping others in very important, and empowering, for the McKee's. They want to impact more and more people, and are planning to lead their town in a 5K.
Resources Discussed In This Podcast
"Seek first to understand, then to be understood."
Fitbit (Rick walks around the house while he shaves and brushes his teeth, in the morning, to make sure he gets a head start on getting his 10,000 daily steps in.)
The ONE Thing: The Surprisingly Simple Truth Behind Extraordinary Results by Gary Keller & Jay Papasan [ Amazon / iTunes / iTunes Audiobook ]
Find someone to talk with.
TwoFoods.com – nutritional comparison of any two food items
Favorite McKee Music
Contacting Rick & Kelly McKee