The tragic death of her friend caused Jen to examine and radically transform her life.
"I'm not training for a race, I'm not preparing for a competition. I'm not trying to set any kind of record or impress anyone. I'm literally trying to save my life."
Jen tries to keep this quote in mind when she is feeling discouraged or needs motivation. She feels that before she began to lose weight she was basically on her way to "a slow death."
Weight Gain Background and Contributing Factors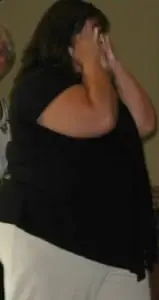 Jen begins by saying, "I have always loved food." Jen shares that she wasn't overweight as a child, and was a fit 125 pounds (56.8 kg) in high school, running track the whole time. In college she gained 40 pounds (18.2 kg) in the first year, and kept gaining throughout.
She was still gaining weight as she was first married and when she and her husband tried to get pregnant, Jen discovered she had Polycystic Ovary Syndrome (PCOS). Jen discusses the "heartbreaking" assessment from her doctor that she would never get pregnant, and still feels frustration that this doctor gave her absolutely no information on how PCOS affects weight.
Jen sought advice from another doctor and was finally able to understand her PCOS was interfering with her attempts at weight loss. This 2nd doctor prescribed Jen Metoformin, which caused about 20 pounds of weight loss, but that loss didn't stick. Jen is 5'1" tall and her highest weight was 283 pounds. (128.6 kg)
How Being Overweight Impacted Jen's Life
Jen says her weight "impacted every part of my life."
While Jen describes herself as generally a positive and sunny person, she says that every night for decades she would go to bed "defeated" from carrying extra weight. She thinks that the resultant low self-esteem that lasted so long has had a permanent affect on her psyche.
Jen realizes that since she was growing up at a normal size her lowered self-esteem didn't stem from her childhood, but rather from over the 20 years she was heavy as she managed to "chip away" at herself until she felt invisible. Jen says that when someone is heavier and meeting new people you always think about their judgments of you:
"You start to build that wall up and pretend that you don't care. But you do."
Jen says that everything would remind her about the physical space she took up in the world. She recalls strategizing about things related to her size like how she would always try to arrive at a restaurant first when she was meeting friends so she didn't have to squeeze between tables, chairs, and other customers.
Jen shares that once she was asked to leave a carnival ride because of her size, and that's just one of many things that made her feel like her body was "so limiting."
She remembers avoiding any activities that would challenge her; she would just pretend she didn't want to do them. Jen says that one might think any of the "humiliating" instances she suffered would be a wake up call for her health, but these all happened years ago, and "I never changed."

The Turning Point
The turning point for Jen's life was a definitive, tragic moment. Jen's good friend (Jeff Brown) passed away in October 2011 from Amyotrophic lateral sclerosis (ALS). ALS is a horrible, wasting disease, particularly depressing as the patient is fully aware throughout and knows their body is failing.
Jeff was only 40, the same age Jen was at the time. Even as Jeff was dying, he would always remind Jen to "enjoy life." Jen says:
"I realized quickly that he would have done anything, anything he could have, to fight what he had, and there was nothing he could do…

I realized—I'm 40 and I had my own disease that was killing me. I was battling my own slow death. But the difference was: I could save my own life."
Jen says, "he's one of the main reasons I changed my life."
Jen's experience with Jeff made her ask herself how could she waste her life when so many others don't even get the chance to live or only get to be alive a short time. Jen feels that middle age is a time to evaluate how much time you have left and make you think about how many more healthy years you have left.
Even though Jen says she wishes she had lost the weight 10 years ago, she's glad she took this opportunity to better herself and to lose the weight.
"Fight to live. Fight like hell to be here."
Starting The Weight Loss Journey
At the beginning, Jen didn't change her eating habits right away, but she started with walking. Jen quickly realized the truth of the saying 'you can't exercise off a bad diet,' as the walking coincided with some initial weight gain.
"You learn so much on this journey!"
In the past on other diets, Jen would get really angry when food was restricted, yet knew she would have to change what she ate. She began to make healthy substitutions in recipes she liked.
In just 1 month using the made-over recipes Jen lost 11 pounds, even though it was over the holidays. Since she was eating and not depriving herself, Jen felt happy.
"I am not depriving myself…and you don't have to."
For whatever reason, Jen says that this time losing weight just didn't seem as difficult. She thinks the key was finally finding a plan that worked for her.
Staying Motivated
Jen says that this time around she didn't share with anyone that she was trying to lose weight, except with her husband.
Jen says she doesn't blame people for having doubts when they know someone who has tried multiple times to lose weight, and might say something like "I really hope it works for you…this time."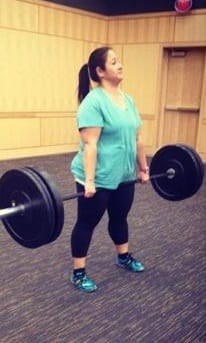 And even though they are actually rooting for you, the encouragement can sometimes sound lackluster. "Keep it up!" is also a potentially doubtful comment she's heard, even though it's intended as encouraging.
After the initial 25 pound loss Jen began to tell her family and close friends. When she started her blog she also kept it fairly quiet, just telling a few close friends.
Jen feels that journaling through her blog was a "big factor" in her success this round of weight loss, and says the positive feedback from her blog has been invaluable. Her blog has caused her to feel not only accountable to loved ones, but to the general public as well.
The idea that perhaps her blog was helping someone else trying to lose weight has really meant a lot to Jen. If Jen could go back in time and speak to her obese self she would be reassuring and tell herself that even when "every day is hard" you're not going to give up.
What Jen Learned About Food, Exercise, and Herself
"The whole journey is a lifelong commitment."
Jen says that there are so many ways to lose weight, but every time it comes back to eating right and moving.
She feels that being willing to try new things is critical. Even when the thing you try doesn't work out, you have to keep trying things in both exercise and food to find out what might click with you. It is critical to "trust the process."
Finding this individual approach is critical, because since every body is so unique, that what works for one person will not work for another.
"The things that you will find out about yourself are so worth every minute of frustration and every minute of doubt."
Today Jen's focus is on eating healthy things and pushing her body.
"I learned how strong I am."
Jen says she loves seeing what kinds of things her previously obese body can now do, even CrossFit! 3 years into her journey Jen tried the C25K app, and can now run 3-5 miles at a stretch, and is now reminded constantly about how different her body is than it was before.
Approaching Maintenance
Jen eats between 1700-2000 calories each day now. She says she still has about 40 pounds (18.2 kg) to lose, but her main goal now is to live healthy and finally be comfortable in her own skin.
Jen's Advice For Your Journey
Jen advises taking small steps, not big ones. She says it's good to get used to making small changes, because you gain a little bit of confidence with every small success.
The journey is not a temporary thing. Find what works for you and don't compare yourself to anyone else—only you are going to know what makes you happy.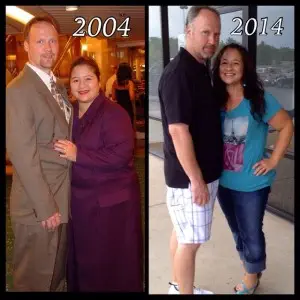 Resources Discussed In This Podcast
On Jen's Workout Playlist
Contacting Jen