"When you're going through hell… keep going."
Winston Churchill
Andrew Shanahan is an award-winning writer, editor and publisher, and the man behind Man V Fat – a magazine aimed at supporting men's weight loss around the world.
Andrew and Sam have a candid conversation about the health & fitness industry, memorable guests they have featured, and the emotional components of health & weight loss.
In this episode, Andrew and Sam discuss:
Is weight a gendered issue? Are men's articles more geared toward fitness, and women's more towards weight/fat loss?
Cultural conditioning and body image.
Pet peeves about the health & fitness industry.
Dieting stigma.
3 Key Steps to Weight Loss covered in the Man v Fat book.
Strategies Andrew has seen people have success with.
Intermittent fasting, fiber supplements, better sleep, habit formation, more…
About Andrew Shanahan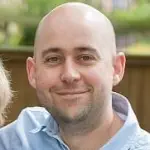 Andrew reached a peak weight of about 236 pounds (107.3 kg) and completely revamped his lifestyle to improve his health.
Andrew's background is in journalism and entrepreneurship. Through his personal experience, he discovered there was a "crying need" for weight-loss content centered around men. He shares how most material for men is focused on fitness and "six pack abs," and not enough on the weight-loss side.
"[When I was overweight,] my ambition was never to say, 'I would like a six pack.' It was just off my radar… What I wanted was someone to talk to me about how to jiggle less as I walked down the street."
Andrew felt that a magazine specifically about men's weight loss & weight issues could be the answer to this gap in information, and he took his idea to crowdfunding to test whether there was any interest. The response was massive, and Man v Fat Magazine was born.
"The way that mainstream media approaches and characterizes men, is in a very shallow, narrow, one-dimensional way. They tend not to… display that men have insecurities or aspects of themselves that they'd like to change."

"I really discovered a new side of myself, where I was much happier, more engaged with activity. It lit a fire under me, really."
Resources Discussed In This Podcast
This Episode Sponsored By RunKeeper
One of the most-recommended apps for becoming a runner and tracking your progress. Custom training plans tailored to your fitness goal. Save 10% here.
On Andrew's Workout Playlist
Contacting Andrew