At 278 pounds, Jill had no self confidence and felt like she wasn't good enough.
Hear what she signed up for, and what she discovered during it, that transformed her health and her future.
"It doesn't matter how many times you start over, as long as you do."
Weight Gain Background and Contributing Factors
Jill spent the majority of her life overweight until about five years ago. She first started trying to lose weight when she was 12.
She was never the skinny kid, but was active in sports and mostly maintained her weight. Looking back now, she realizes that she was the same weight as everyone else.
Jill's adult weight gain began when she was in college. She describes spending time drinking, eating and partying instead of exercising.
She tried countless programs and diets, with short-term successes. At one point, she did lose significant weight with Weight Watchers. However, looking back, she believes that success is less about the program and more about where the person's head is at the time.
Jill reached a peak weight of 278 pounds. (126.3 kg)
How Being Overweight Impacted Jill's Life
Jill shares that the first 30-50 pounds didn't really interfere with things she wanted to do.
However, as she neared 200, she didn't feel good anymore and got out of breath going up stairs. Emotionally, she had no self-confidence and felt terrible about herself. The emotional damage was worse than the physical damage.
"I always felt like I had to develop a sense of humor. I had to be funny and witty and smart, because if I couldn't be pretty and thin, then at least I had to have a good personality.

I think I ended up trying really hard to develop other things to kind of make up for the fact that I was overweight… Looking back on it, it's crazy, but I just felt like I wasn't good enough."
Jill shares that this experience shaped her character by helping her develop empathy for other people who have weight issues because she identifies with what they are going through.
She wants to go up to everyone who has self-esteem issues and tell them that "they are worth it!"
The Turning Point
Jill knew that she was unhappy inside.
"In my mind, I was always like, I'll be happy as soon as I have a new body… Not realizing I just kind of needed to be happy, and then maybe I'd get a new body because I'd stop eating so much."
To begin working toward this new body, she decided to sign up for a three-day walk to benefit breast cancer research. She was almost 300 pounds at the time, and the walk would be 20 miles each day for three days.
Starting The Weight Loss Journey
Jill realized that she couldn't do the walk alone, found a trainer in her neighborhood, and immediately started working with her twice a week.
While she didn't lose any weight the entire time she trained, she did became physically stronger and "discovered a whole new love" of herself.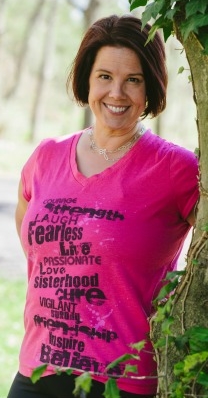 She began doing yoga, and her trainer helped her begin to see herself as a worthy person – someone with strength and grit regardless of her size.
Jill began gaining confidence, and as her self-esteem improved, she became happier. As she became happier, the weight began to come off.
At this point – having lost almost 30 pounds – Jill signed up for a triathlon. It wasn't scary for her, because in her mind she was already on her path to weight loss.
However, she had no idea she was about to discover something completely new about herself.
Jill found that she loved running. It was meditative and personal to her. It was her own sacred space. She enjoyed the person she was becoming. It was her safe-haven to explore her boundaries and see what she could do.
"I made it to the finish line; I already won!"
Jill shares how the training experience redefined for her what being an athlete looked like. She gave herself more realistic goals and realized that she could just do an event (triathlon) to finish it.
The dietary changes came next. Jill and her husband traveled the South of France and enjoyed a variety of foods. Upon returning home, she decided to refocus on her diet.
Staying Motivated
She had to convince herself to stop making excuses as to why she couldn't do things. She had to change the picture in her mind of the perfect athlete.
She had tried to tell her trainer she couldn't participate in the triathlon because she couldn't buy a wetsuit in her size. Her trainer helped her realize that was an excuse, and that she didn't have to wait for "the perfect circumstances."
"The picture that I had in my mind of the 'perfect athlete' and all the things that I needed to be before I could follow up on my fitness goals were excuses… my mind throwing up barriers."
What Jill Learned About Food, Exercise, and Herself
Before her turning point, Jill was training twice a week and yoga once a week. She was experimenting with new ways of eating, such as giving up artificial sweeteners, eliminating processed foods, and incorporating more whole grains and fruits and vegetables.
She reduced junk food and increased healthy food. If it came in a box, she just didn't buy it.
A factor that helped make the transition smoother was watching Food, Inc. The movie helped Jill understand all of the chemicals that she was putting in her body. She looked at it like her life was on the line, so the changes were absolutely necessary. If she wanted a cupcake, she made it from scratch instead of buying a mix or buying it from the store.
Jill began making more food at home, such as pizza and bread. She discovered that it was easier to eat healthier than it was to make junk food at home from scratch.
Jill also learned how to sit down and really enjoy the food she was eating. She learned to savor, smell, taste and pay attention to it.
She began running, biking and swimming two to three times a week in the beginning, and then upped it to 4 to 5 days a week closer to the triathlon.
Jill learned that she is worthy exactly the way she is. She doesn't need to be anything except what she is to be a beautiful human being.
Jill's Advice For Your Journey
Pause before you eat something. Write it down or just reflect on what you are going to eat, and make sure that you are eating it because you are hungry and not to fulfill another need, like responding to being upset or lonely.
"If hunger is not the problem, then food is not the solution."
Losing weight is not about willpower or denying yourself food. If you don't find a way to eat that you can sustain for the rest of your life, then you will not keep the weight off. Make small changes that you can keep up long-term.
Any amount of physical activity that you can fit into your life will help. You do not have to run a marathon. You can do a 30 minute walk daily and feel better immediately.
Make sure you get up and move instead of sitting all day. Sometimes, that's more important than doing an hour workout.
Stop worrying so much about what you look like and start thinking about how amazing you are as a person. Let that light shine. The size of your body does not tell the world who you are fully. Once you do this, everything else will fall into place.
Tip: Put your shoes on and go for a walk. Do it again tomorrow and do it again the day after.
Any little change will lead to more change, and more change.
Resources Discussed In This Podcast
On Jill's Workout Playlist
Contacting Jill
Jill helps and motivates people on her website and various communities online. Check her out at the following social profiles: