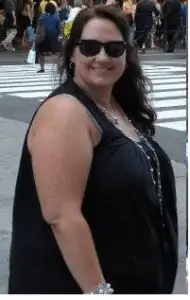 My name is Adina.  And here is my story, so far.
My entire life I have been focused and determined.  Since the time I was young, I achieved and succeeded.  But this came with nothing short of hard work.  Aside being naturally attuned to the people around me and always being comfortable being the life of the party, I have had to work with all my effort to achieve in life.  I know people around me always thought it was luck but everything I have ever had in life has been because of what I wanted and knowing the path to that would be tough.
Grades, relationships, opportunities, career, family and possessions have been created as a result of my drive and humble attitude.  It has always baffled me why I have always carried extra weight.  And I mean extra weight.  By the time I was 35 years old, I had hit over 270 pounds on a 5'4″ frame (I stopped weighing myself at this point).  Weak legs and absolutely no strength below my arms, my body started to talk back.  During my second pregnancy, I was diagnosed with early arthritis in my right knee making it impossible to carry my just newborn baby up a flight of stairs without experiencing excruciating pain. When reading up on causes and fixes, I was mortified to read extra weight on the joints could actually cause this.  So I knew what needed to happen… but that didn't inspire or motivate me enough.
Six weeks after my baby was born, I, again, found an opportunity I couldn't pass by. I met a trainer of a local women's only fitness facility. After hearing her speak, I Googled her and saw that she was accepting testimonials for her annual Makeover event.  I immediately submitted my story.  It was not only the reality of a breaking-down body that motivated me to submit my story.  Just a week or so before my six-year-old daughter and I were watching TV together – a very typical activity at home.  A weight-loss commercial came on for one of the "we promise you'll lose your weight fast and effectively" companies.  She looked at me and said, "Mom, that's what you need".  A moment in my life I wish I could erase but one that changed my perception forever…
The Makeover changed my life, but I would later realize as my journey continued, that the changes were only superficial and the real work had not yet begun!  At the end of the three months, I had lost 20 lbs and close to 25 inches.  I also came to realize, shortly after I returned to work after my maternity leave, I was no longer happy doing what I thought was my calling.  My career in HR came to an end on a Friday afternoon in April after 14 years.  I quit.  With no prospects or idea of what would come next.
Two weeks of unemployment and I was hired part-time to help run my trainer's studio only moments from my home.  It was again an opportunity to use many of my skills I had used for years while being completely immersed in a new lifestyle and environment.
I continued training on my own with many ups and downs along the way.  Now almost 70 lbs. gone, I have certified and am a Personal Trainer myself.  I have made slow strides, but some things I am super proud of include being able to play tag with my daughter and do cartwheels.  I am a five-time 5K finisher and have more on my horizon!   I have been overly amazed and humbled at how many of my friends and family have adopted a healthier lifestyle around me.
And the story continues.  I eventually parted ways with my trainer – for my own reasons, most of which out weighed the need for money and more on principle then anything.  I have learned a lot about myself, my relationships and where my journey will lead me.  I have met some amazing weight loss survivors who have done their part in imprinting my life and helping me with perspective, challenges and deciding that my life is worth living.
In January of 2014, something switched and through my blog, I came to realize that a personal shift of self-reflection and taking stock on what's important was needed.  In those moments I found a lot of truth.  Truth in what I needed and wanted in life.  And with that, started to do this for me and me only.  I tinkered with my nutrition, starting a fairly aggressive lifting program and found time for quiet reflection.  Well, let's just say the proof is in the proverbial pudding.  My fourteenth month plateau was finally broken and I continue to see the measurements moving in the right direction, allowing myself to live life!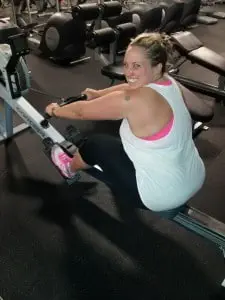 I am honoured to work with both Tim and Sam on this venture and only hope you find strength, encouragement and inspiration in what we share.  It was through my interview with Sam back in the Fall of 2013 and meeting a wonderful group of past guests that I have found a community of like-minded people.  Sometimes we need to look outside our every day to find that which will keep us going!
And it has been through my story, my struggle and my amazing scale warrior friends that I have found that.
I blog regularly on www.discoveryourstrength.me and encourage you to follow me on Facebook  for my daily (sometimes minute by minute) real life journey of a healthier me!
I am honoured to have you here with us and if you're interested in listening to one of the original podcasts, have a listen to mine here!
Axo