It's Thanksgiving weekend here in Canada and I have never been a super-big fan of pumpkin pie.  I do love pumpkin everything else though.  With our two turkey dinners behind us as of this evening, I am skipping desserts and will enjoy this wonderful breakfast selection for tomorrow's day at home with my family.  No traveling, no getting dressed – just enjoying these awesome protein cakes for brekkie and some Starbucks coffee with Maple Syrup!
Thanks, Maggie, for being amazing and sharing.
To link direct to Maggie's blog, click on the recipe title below or through her bio.
Happy Thanksgiving, Canucks!
~A

---
Way too often, I hear 'weight loss is hard. I can't have my favorite foods. Low calorie foods taste like cardboard. Low calorie foods are too expensive. I can't afford to lose weight. I like food too much to lose weight. I don't have time to eat healthy.'
Wrong.
Wrong, wrong, wrong.
I love food just as much as anyone, maybe more than average. I have struggled with food addiction. I love to cook, and bake. I love gourmet foods – but I like diner fare just as much, like burgers and pancakes. Basically, if it's food, and it's tasty, I'm in heaven. So when I tell you you can have whatever you want, please believe me!
It might mean that you cook more at home, instead of eating out, and learning how to do weekly meal preps if your schedule is tight. The point is, all those excuses are just that – excuses. You have to get beyond them. You can eat whatever you want – including a stack of fluffy, amazing pancakes – and still lose weight, if that is your goal. Counting my calories and portioning my food has been invaluable to me, because I never have to deprive myself of a food that I love!
These protein pancakes are a prime example. Light, pillowy, and delicious, they are only 99 calories each – which means you can have three or four plus some turkey bacon and toppings, and still be around 400-500 calories for a great big breakfast. They are also great for the season; the pumpkin flavor and silky texture resonate with this crisp, cozy time of year.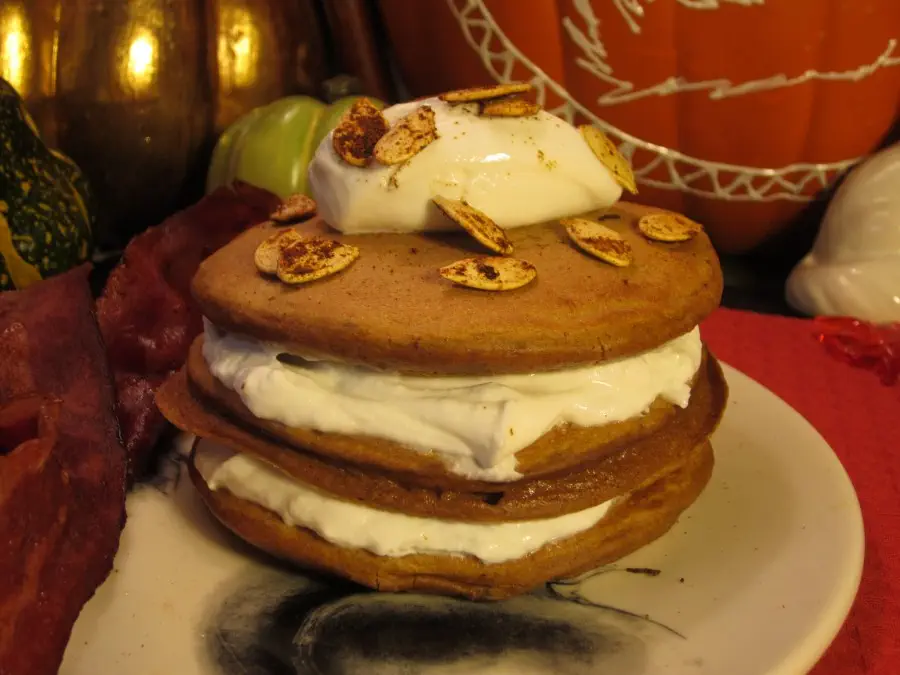 You will need:
3 Cups gluten-free oat flour
4 Scoops chocolate protein powder
4 tsp baking powder
2 tsp pumpkin pie spice
1 tsp cinnamon
1 tsp powdered ginger
1/2 Cup granulated Splenda for Baking
1/2 tsp salt
2 Tbsp unsweetened cocoa powder
1 Cup canned pumpkin puree
2 tsp vanilla extract
1 tsp immitation butter extract (or sub with extra vanilla)
2 Cups unsweetened almond milk
1/2 Cup liquid egg whites
1/4 Cup sugar free maple syrup
If you are using an electric griddle, set it for 375 degrees; if you are using a non-stick skillet, set your stove top at medium heat. Spray your cooking surface lightly with a no-calorie cooking spray.
In one bowl, combine the oat flour, protein powder, baking powder, pumpkin pie spice, cinnamon, ginger, Splenda, salt, and cocoa powder in one bowl; whisk until the dry ingredients are combined. In a separate bowl, combine the pumpkin puree, extracts, almond milk, egg whites, and maple syrup, and whisk thoroughly. Gradually combine the wet ingredients into your dry ingredients, whisking briskly, until there are no lumps.
Once your cooking surface has come to temperature, use a quarter-cup measuring scoop to measure out each pancake. Drop the batter onto your surface, and wait until the edges have firmed up a bit and you can see a few air bubbles around the edges. If you are using a large electric skillet, you can do these 6-8 at a time! If you do it this way, by the time you are done pouring your last one, the first one you poured will be ready to flip. They only take a few moments, so be careful not to burn them.
Set on a dinner plate and layer as you cook them, covering them with a clean kitchen towel to keep them warm. I topped mine with nonfat greek yogurt and roasted pumpkin seeds, but sugar free jam, light cream cheese, nuts, or sugar free maple syrup would work as well!
These pancakes are only 99 calories each, with 7.8 grams of protein, 13 grams of carbohydrates, and only 1.6 grams of fat. If you have a stack of three pancakes with nonfat greek yogurt, that is almost 30 grams of protein! Not bad for something that tastes like dessert! Enjoy and, as always, let me know how you like them!