Like so many of you, I was deeply affected by the loss of one of Comedy's greatest living geniuses last week. As a huge fan of Robin Williams specifically and stand up comedy generally, news of his suicide stirred me in a way that was unexpected. I haven't been able to stop thinking about it all week.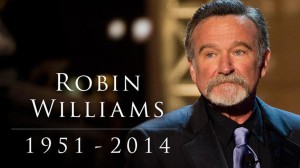 His death has created a national dialog on suicide and depression, which is a silver lining. Studies show that as many as 1 in 10 Americans suffer from depression with as many as 3–4% suffering from major depression. And importantly, for us as writers, readers and listeners of TipsOfTheScale, study after study proves that there is a strong link between obesity and depression. What we still don't know and may never know is whether depression causes obesity or obesity causes depression. It's difficult to isolate a cause and an effect here. But it's irrefutable: depressed people are obese and obese people are depressed. Some examples of findings include:
I think just about all of us struggle at one point or another with depression. I am no exception to this rule and have on several occasions come out passionately encouraging former morbidly obese people seeking some professional help to correct the thinking that led them there. I did not become morbidly obese merely out of ignorance or accident. I got there because somewhere along the line I stopped caring and developed an healthy relationship with food.
The Funny Fat Guy
When I was younger, I fancied myself a bit of a class clown. I was the fat kid, and my best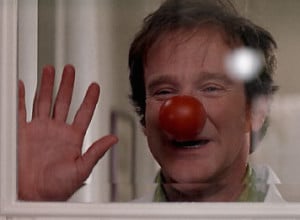 opportunity was to embrace humor. I could avoid feeling insecure by maintaining control of the laughter around me by creating it. Self deprecating humor allowed others to laugh with me and not at me.
The best stand up comedy creates tension before releasing it and allowing the audience to laugh. Just like this routine from Bill Burr where he's joking about domestic violence motivation. To me, it's a perfect example where he creates an uncomfortable situation and then gives you an opportunity to laugh at it. I have a theory that has to do with this tension and obese people. I found that people expected obese me to be jolly like Santa Claus. It's kind of like Finding Nemo where everyone expects Marlin to be funny because he's a clown fish. Maybe this is crazy but I've always felt like fat people create this tension automatically because people want to laugh at them and the funny fat man gives them permission to do so.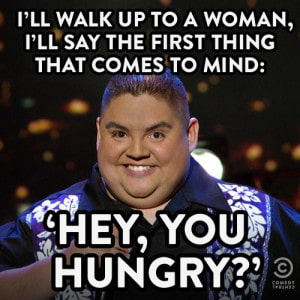 Like obesity, there seems to be a trope about the depressed comic. Cracked, in an article about why comics are depressed, said this about the mental state of the comic:
"In your formative years, you wind up creating a second, false you – a clown that can go out and represent you, outside the barrier. The clown is always joking, always "on," always drawing all of the attention in order to prevent anyone from poking away at the barrier and finding the real person behind it. The clown is the life of the party, the classroom joker, the guy up on stage – as different from the "real" you as possible. Again, the goal is to create distance. You do it because if people hate the clown, who cares? That's not the real you. So you're protected. But the side effect is that if people love the clown … well, you know the truth. You know how different it'd be if they met the real you."
I was terrified that people would learn how much my obesity affected my self image so I played class clown. I didn't want to let them in. And as I commented in my interview on TipsOfTheScale, food became my security blanket. It was the one thing around me that never judged me and I could be myself around. I was obese, which depressed me, which caused me to overeat and become depressed. It was an endless cycle which would have paradoxically brought an early end to my life. And I didn't care. I knew that by eating the way I was that I would die early and maybe that is precisely what I wanted at the time.
I felt alone, even surrounded by love.
Depression affected me so thoroughly that I had trouble in friendships and relationships, unwilling to believe that people who loved me actually did. Familial relationships were strained. I would push people close to me away and when they would leave I would label it confirmation they didn't love me the whole time. I refused to let people love me and when they didn't I told myself they didn't love me because I was fat and I would go eat more. There appeared to be no way out of this cycle.
When my father left suddenly and without explanation when I was 17 years old, I felt personally rejected and cast aside. His unexplained departure forced me to manufacture reasons why he left and as an aspiring storyteller, I could and did come up with some dark scenarios. I believed that one of the only people in the world who should care about me didn't anymore and was done with me. And to be honest, I didn't blame him because I was fat, ugly and useless anyway. This was the kind of messaging that went on in my brain, which led to more overeating and greater obesity. These issues continued through other failed relationships and a greater dependance on food for comfort. Through it all, food was always there. Like an addict chasing a high, every time I turned to it, I had to do more and the release was becoming less and less effective.
I got worse before I got better.
When my food addiction wasn't enough to satisfy me I doubled down on other distractions, immersing myself in a religion I didn't really believe in and video games like World of Warcraft. I was chasing highs and distractions wherever I could find them. Eventually the depression became so significant that I had no other choice but to face it. I was torturing myself, quite literally and it wasn't until a dear friend forced me to seek professional help that I got the treatment I needed. In counseling, my doctor gave me the opportunity to go back to thoughts and feelings I'd had as a child and find out what drives me to do the things I do, to be the way I am and to feel the way that I do. We reprogrammed my mind using different techniques that mental professionals employ. I was able to forgive my father and repair the relationships that were damaged by by "fat brain". The depression began to subside and be manageable until it wasn't there.
At first I was embarrassed to face counseling. You might feel the same way. But I've learned that just as it's ok to watch a YouTube video on squat form, sometimes our brains need form checks as well. I don't think I can lend much to the chicken and egg scenario that plays out with obesity and depression but I definitely struggled struggle with both. Although my body has not been obese for sometime, I live in constant fear of relapse. When I was losing weight, I believed that as soon as the obesity left, the depression would go with it but that did not occur. It wasn't until counseling that I finally found the peace I needed and I honestly believe this is a big reason I haven't ever relapsed or gained weight back. That may not be why others regain, but if left untreated, it would have for me.
I tell a lie occasionally.
"Losing weight was the best thing I ever did for myself."
It isn't a complete lie, but it definitely is not the whole truth. This is:
"Losing weight forced me to deal with my major depression, which was the best thing I ever did for myself."
Like everyone, I still have tough moments. Moments where I don't understand why things are the way things are. Like when Robin killed himself. All I want is more of his special brand of mania. He was perfect: chaotic and beautiful, just like life. It's crazy to miss someone you've never met and probably never would have, but that is exactly what I'm feeling. I'm going to miss Robin Williams.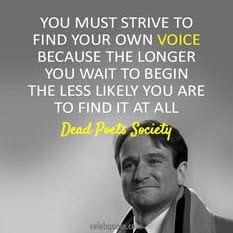 If you are struggling with major depression, it's nothing to be ashamed of. Like walking into the gym for the first time as an obese person, there might be people who will judge you for seeking help, but those people aren't worth your time or attention. I will not condemn them to hell because they are already living in a self made hell where they've forgotten that they are surrounded by souls created by a Loving Power far greater than they are.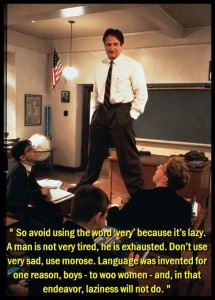 Whether you know it or believe it, like Robin, you are so damned special. This world would not be the same without you. You can get through whatever you're going through because someone else has gone through it, is going through it and will yet go through it. There is help out there, believe me. I hope you will believe, try, breathe and keep going. I didn't believe I could get through it and there are times I still forget what I'm capable of. And that's why I wrote these words here: so I can go back and remind myself the way I am reminding you.
I love you. You are beautiful and someone needs you. Someone needs to hear your story. One day you may be called on to write about overcoming depression on a weight loss blog after losing 200 pounds. I just kissed a 6 year old princess good night and finished ripping an 8 year old away from the computer where she is learning how to write code. All things I couldn't have done if I wasn't this strong, living version of myself. If you are struggling with thoughts of suicide, please seek the help you deserve.
Please call the National Suicide Prevention Lifeline at 800–273–8255 if you are having thoughts of suicide. We love you. Seriously.