I have attempted, experienced and moved on from a number of different workout routines.  And so will you.  As you start your fitness path, perfect and exhaust certain regiments, and come back to old, this is the secret to the success is changing your body's composition and looking lean and fit as a woman of strength.
About four months ago I started taking weight lifting/strength training/lifting to a whole different level.  I chose a four-week increment program, focusing on some pretty 'basic' exercises to strengthen my body and start the muscle definition process.
However, many women choose to keep with high rep, low weight programs, or shy away from lifting that iron altogether for fear of getting huge.  You know that look…
Today's article debunks the myths (at least some) when it comes to women and weight lifting.
Our past expert guest, from episode #49 Suzanne Digre of Workout Nirvana, comes back to shed some light on what can be a very confusing subject for women in the exercise arena.
To learn more about Suzanne, read her full bio at the end of her Q&A session with me! Thanks, Suzanne (as always).  Look for further articles on more detailed approach in starting your lifting program.
~A
---
What are some of the most misleading thoughts your female clients have around strength training?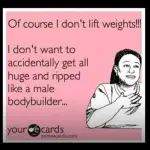 There's still a pretty wide perception among women that strength training will bulk them up like men. Weightlifting was the domain of bodybuilders only for a long time, it's only been relatively recent that it's become mainstream for women too. It doesn't help when celebrity trainers spread erroneous information, telling women that if they lift more than 3- or 5-pound weights they'll get "too big."
What do you do to lessen these misconceptions?
I show my clients the many women who lift heavy weights yet are still feminine and beautifully proportioned. It's actually very difficult to build muscle and takes a long time, especially for women. Women who look more masculine probably used performance enhancers.
How would strength training help those who have a substantial (over 100+ lbs) amount of weight to lose?
There are tremendous benefits to strength training when it comes to weight loss. Even building a small amount of muscle mass can help increase your metabolism and burn more calories at rest. Studies have shown that anaerobic exercise such as high intensity strength training can help you burn fat for hours after you stop exercising (called post-exercise oxygen consumption, or EPOC). And strength training has many positive hormonal effects on the body, along with helping to lower insulin resistance.

Being on a calorie-restricted diet for a prolonged time can lead to losing muscle mass. We already lose muscle mass as a natural result of aging every year, so if you're dieting without strength training, you are likely to lose significant muscle mass. This can contribute to metabolic inflexibility and maybe even a weight-loss plateau.
Muscle helps creates a shapely, tight body, of course, too. But you'll also notice a difference in your daily life. Being stronger helps you avoid injuries, gives you better posture, improves your energy levels and sleep, and increases your overall conditioning.
Where would we even start?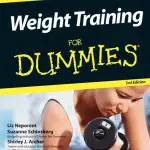 I recommend picking up a beginner's strength training book and practicing the movements at home with very light or no weight to start. Look for books like Weight Training for Dummies [Amazon] (which I used myself to learn) by Liz Neporent and Suzanne Schlosberg and The New Rules of Lifting for Women [Amazon] by Lou Schuler and Alwyn Cosgrove to get started.
How does progression work?  Would I just continue doing the same workout all the time? 
Strength training, and any exercise, gets easier and easier as your body adapts and becomes more efficient at the movements. This means you'll burn fewer calories and build less muscle over time.
That's why you'll need to continue increasing the challenge on a regular basis. Ideally you want to change your workouts just before they become easy, yet not so often that your body doesn't have time to benefit from the workout. You can progress yourself by increasing the weight you're lifting, doing more repetitions or sets, decreasing the rest between sets, changing the exercise slightly, and many other ways that keep things interesting and fun.
Do I have to take supplements and be all like, "Hey, look at me and my protein shake".
Supplements are absolutely not necessary!
Does nutrition change when lifting?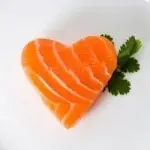 When you're on a weight-loss program, getting more lean protein is extremely important for taming your hunger. You'll also want to get enough protein when you're strength training to help build new muscle mass. Focus on high-protein foods like non-fat dairy, fish, turkey breast, chicken breast, and other lean meats, and beans and aim to get 20-25% of your calories from protein.
Anything else I need to know before starting?
If you stick with it, strength training can give you a sense of self-empowerment like nothing else. Feeling stronger and more capable in daily life can make you feel stronger mentally and give you a certain resilience, self-confidence, and positive outlook. And when you see that muscle definition start coming through you'll be amazed, proud, and happy you followed through with strength training.
---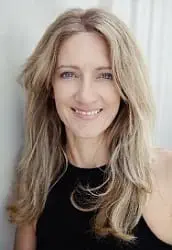 Suzanne Digre is owner of Workout Nirvana Fitness, where she mentors and motivates women who lift. Her online coaching programs have helped countless women get to the next level of fitness, from building muscle and losing fat to accomplishing their first pull up. Suzanne has been lifting weights for 15+ years and has written more than 200 articles at workoutnirvana.com about strength training, nutrition, and owning your power in the weight room and beyond. You can follow Suzanne onFacebook, Twitter, and Instagram. Check out her group training programs, Lean and Strong and Fierce Definition, and her 1:1 coaching programs.