Tim Bauer lost 200 pounds in a year and 9 days.
He had been obese his whole life, reached a peak weight of 440 lbs, and then decided he deserved to be healthy and to feel amazing. Cue the Rocky theme and settle in for a great story!
"Just think, this time next year you could be a hundred pounds lighter."
Resources Mentioned in This Podcast
On Tim's Workout Playlist
Tim shares more insight and humor regularly at TinierTim.com and @TinierTim.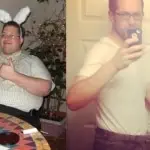 UPDATE! Tim's story was picked up by the Huffington Post, and he was interviewed again here!
UPDATE! Tim returned for an update six months after this interview. Listen to it here!